4.3 inch 2MP Portable Hand held LCD Digital Microscope with Polarizing to Anti Reflection
PRODUCT DESCRIPTION
Main Features:
* Polarizer build in: allows to reduce reflection, very usefual for observing objects with shiny surface like diamond, jewelry, metal etc.,
* Software/driver can support four screens to work simultaneously.
Quick Details
DM041 is the polarizer type LCD digital microscopes, the built-in adjustable polarizer allows to freely remove the unwanted reflection or glare from the object surface for a better contrast. It supports to see the live viewing, capture, recording by the device itself; also supports to connect to Windows, Mac computer or laptop through USB cable, the attached PC software is with powerful functions like measurement, capture, recording video, and support 4 screens/devices working together in the same interface, which makes it easy to compare the objects.
LCD DIGITAL MICROSCOPE SPECIFICATIONS
MODEL

Model Name

DM041

Connection

USB 2.0 to PC

OPTICS

Polarizer

Yes

Magnification

Real 10x~150x(based on 21 inch Display)

Lens type

Optical glass

Focus range

Manual focus 0~110mm

Illumination

8 adjustable white LED

SENSOR

Sensor type

CMOS

Size

2 megapixel

Resolution

1920*1080

Frame rate

25 fps at 2MP output

FEATURES

Software

DigiCapture Pro for
Windows/MacOS

Measurement function

Yes

Certification

CE/FCC/RoHS

PHYSICAL

Dimensions

18*34*30cm

Gross weight

0.2kg

Stand

Comes with metal stand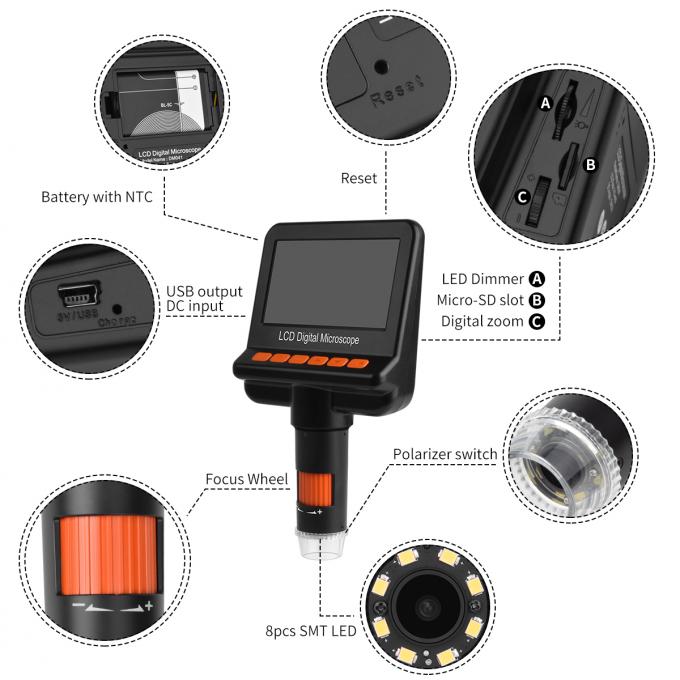 FAQ
Q: What's polarizer feature for digital microscope?
Toproview: This is the new technology in current digital microscope field. This new technology is creatively using the integrated polariscope knob to adjust the light intensity from the digital microscope and external environment, and attempt to reflect, reduce, filtrate the light and make it easy to observe the reflective objects. Like SMD board, diamond, crystal, porcelain, polishing metal etc., will be easy to observed with the help of this function.