UV Illumiation Built-In Wireless Hair Scalp Detector for Clogged Pores Analysis
Main Features
* With UV lens/light to see the hair follicle is blocked or the pigment precipitates or not.
* Optional image and video resolution: 1080P, 720P, VGA
Max. Frame is up to 25 fps at the highest resolution 2MP, that means you will get the smooth video even in the high resolution without any stuck and stop.
* Supported operation systems for smart devices is iOS 12.0 or later, Android 4.2 or later. It wil compatible with at least 90% smart devices in the market.
* With recording button on Hair Scalp Detector, allows to check the playback recording video on both smart devices APP and computer software.
-Easy to connect by WiFi or USB
-High detail live inspections
-Use covers to set up different magnifications
-Up to 200x model
-Ready to use software for measuring.
-Hands free stands available separately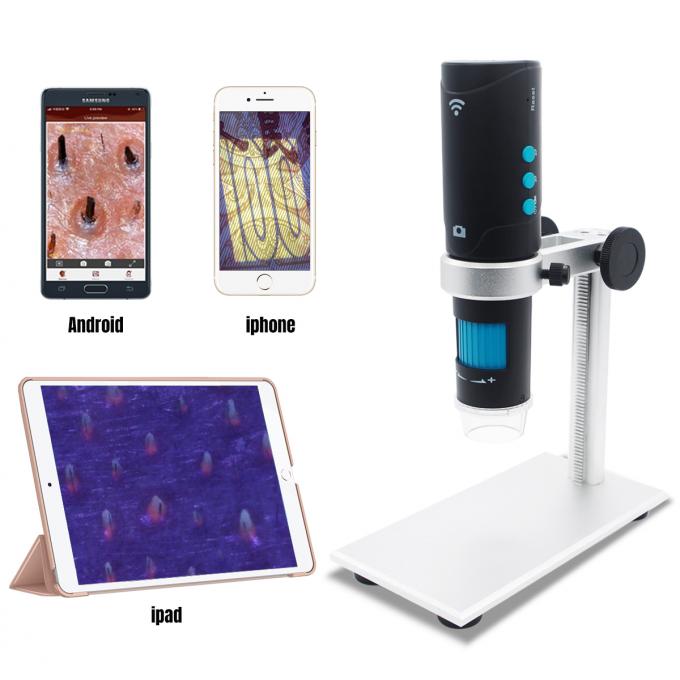 SPECIFICATION
MODEL
Model Name
DM023B
Connection
WiFi to smart devices; USB 2.0 to PC
OPTICS
UV light
Yes
Magnification
Real 10x~200x
Lens type
Optical glass
Focus range
Manual focus 0~110mm(with stand)
Illumination
8 adjustable LEDs(white + purple)
SENSOR
Sensor type
CMOS
Size
2 megapixel
Resolution
1920*1080
Max.Frame rate
25 fps at 2MP output
FEATURES
APP
TopScope Pro for iOS/Android (customizable)
Software
DigiCapture Pro for Windows/MacOS (customizable)
Measurement function(PC Software)
Yes
Supported operation systems
(Smart device)
iOS 12.0 or later Android 4.2 or later
Supported operation systems
(Computer)
Windows 7/8/10macOS 11.2.1 or above
Capturing by microscope
Yes with recording button on microscope
Recording by microscope
Yes with digital zoom button on microscope
Certification
CE/FCC/RoHS
REPLACEABLE BATTERY
18650 Lithium-Ion Battery
2000mAh rechargeable and replaceable
Battery working time
Continue working for 2.5 hours
Charging time
2.5hrs (when WiFi Digital Microscope power off)
PHYSICAL
Body dimensions
16.6*4.5*4.0cm
Gross weight
0.2kg
Stand
metal stand for neutral product; support to customize
APPLICATIONS
* Skin and hair status confirmation
* Hair Folicles, Hair Shaft etc.,
* Scalp, Spa & Beauty
* With UV light to see hair follicle easily